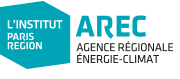 Role(s)
Mentor, Network member, Partner
Team
Marie-Laure Falque-Masset
Sandra Garrigou
Address
15 rue Falguière, Paris 75015 – France
Contacts
Website : https://www.arec-idf.fr/
Email : info.arec@institutparisregion.fr
Topic
Energy data collection
Observatories :
The energy and climate department was created within the Institute in 2017 following the integration of the activities and employees of ARENE Île-de-France.
The Île-de-France Region wished to draw on the department's expertise and engineering capacity to create AREC îdF, the Île-de-France Regional Energy and Climate Agency.
Indeed, on 3 July 2018, the Île-de-France Region adopted a Regional Energy-Climate Strategy which sets ambitious objectives in terms of sobriety, renewable energy production and reducing energy dependency, with two horizons:
by 2030, halve dependence on fossil fuels and nuclear power compared to 2015;
to move towards a 100% renewable energy and zero carbon region by 2050.
Launched in April 2019, AREC îdF aims to facilitate and accelerate the energy transition and adaptation to climate change by assisting local authorities and other players in the Ile-de-France region. At the interface of the different territorial levels, AREC îdF coordinates and accompanies the relay actors in the territories to implement the objectives of the strategy locally.
As the Institute's energy and climate department, the AREC îdF carries out its missions in close collaboration with the other departments, with a view to strengthening cross-cutting activities and mobilising multidisciplinary teams.
The Energy gancy manages as well the ROSE observatory – the regional energy and GHG observatory.
ROSE is a young network created in 2008, and it is going to be the official regional energy and GHG observatory of Île-de-France. It's a network managed by AREC Ile-de-France consisting of 15 members (composed by private and public entities).
Every member brings expertise and data for setting up, annualy, the regional and local energy and GHG diagnostic. The data produced by ROSE help the municipalities in the evaluation phase of their Climate and Energy Plan, helping them to better understand how to use the data. The next role of the ROSE will be a tool for monitoring regional policies such as Regional Plan Climate Air Energy (SRCAE).
ROSE also works on the valorization of local actions made by local communities about Renewable energy and energy efficiency, to communicate to other local communities what they can do at their level.