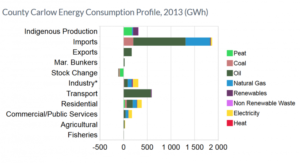 Carlow Kilkenny Energy Agency aims to "lead and support Co. Kilkenny & Co. Carlow and beyond to reduce its CO2 emissions by stimulating and contributing to the implementation of best practice in the field of sustainable energy" (www.ckea.ie). CKEA has extensive knowledge and experience in energy management, integration of renewable energies, feasibility studies, as well as other services in all sectors. The main capabilities of CKEA are: Sustainable Energy Service to Local Authorities, CO2 accounting and reduction, Energy Efficiency Services for Public Buildings, Renewable Energy Development Service (wind, biomass, PV, Hydro etc.), Sustainable transport Promotion Service, and Energy Monitoring and Analysis Service.
The regional energy observatory was initially launched in the autumn of 2015, this launch was aligned with the signing of the Covenant of Mayors by both Carlow and Kilkenny County Councils. Both Counties have begun the implementation of their Sustainable Energy Action Plans in order to reach the 2020 targets.
Description
The regional energy observatory, www.energyhub.ie, is collating energy consumption from domestic and commercial buildings. The energy data is monitoring performance and associated carbon dioxide emissions for the provision of space heating, ventilation, water heating and lighting under standardized operating conditions. This data is collected with a bottom-up approach. Local authority energy usage data is collected on an annual basis for all the council activities for the purpose of monitoring the implementation of the National Energy Action Plan.
Main Results
As the regional energy observatory was only recently launched, we have not yet achieved any tangible results.
However, the observatory will be the main driver in producing a biannual energy report after the initial submission of a SEAP. It is also anticipated that the bottom-up approach of collating energy data from domestic and commercial buildings will produce a more accurate report on energy usage and GHG emissions.