The Nord-Pas de Calais Climate Dynamic brings together the Regional Council, the French State (DREAL, Direction Régionale de l'Environnement, de l'Aménagement et du Logement), the Departmental Council of Pas-de-Calais, the Departmental Council of Nord and the ADEME (French Environment and Energy Management Agency).
Since 2008, this cooperation targets at reducing the Nord-Pas de Calais GHG emission by 75% between 2005 and 2050. The Climate Dynamic creates a synergy between the stakeholders, so that to coordinate the actions in their respective jurisdictions. In this context, sharing resources, information and experiences is a key element. The goal is to provide the local stakeholders with decision making elements that will feed their actions for tackling climate change.
For this purpose, the Pôle Climat, and then the Nord-Pas de Calais Climate Observatory, have been set up in a partnership approach.
Website: www.observatoire-climat-npdc.org
Description
The Nord-Pas de Calais climate observatory works on all fields related to Climate change, from greenhouse gas emitting activities up to mitigation and adaptation actions. It produces pressure, state and response indicators (cf. diagram hereafter).
The Observatory assignments are the followings:
To collect, to process and to analyse data in complement with the existing
observation tools:
To support the Observatory Partners' Network, in complement with the
resources activities of the "Pôle Climat", to be a forum for discussion on data;
To release information and knowledge, towards the Observatory targets;
To assist the local territories willing to set up local observation tools.
Main Objectives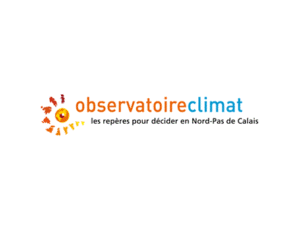 The main objectives of the Nord-Pas de Calais Climate Observatory are the followings:
To provide the decision makers with factual and quantified information, mainly at infra-regional scale
 To facilitate public policy monitoring, especially the SRCAE1
indicators
To work as a forum for discussion and exchanges among the network of climate and energy observers.