OREGES Poitou-Charente, the Regional Observatory for Energy and Greenhouse Gas was established in 2007 and has as main goal a better comprehension of the emission at regional level, understandand and analyze the sources of emissions and trends.
The main missions of OREGES Poitou-Charente are:
To monitor final energy consumption in the Poitou-Charente region
To monitor local energy production and consumption, including the use of renewable sources
To monitor energetic and non-energetic GHG emissions
To carry out studies on specific sectorial energy issues in the region
To assess actions of the regional plan called"Initiatives climat Poitou-Charente", which implies to define and monitor relevant indicator
To inform all actors through publication of documents and the organisation of consultation events and regular meetings of the steering committee and the strategic and financial committees
Description
The observatory monitors:
Primary and final energy consumption
Energy production (from both renewable and non-renewable sources),
Energetic GHG emissions in the following sectors: buildings, transport, industry and agriculture, forestry and land use change.
Note: Air quality and climate change monitoring are not in the scope of the observatory's missions.
Data is a blend of real data, results of surveys and modelled data. The method used is from CITEPA, a national-level inter-professional network collecting information about policies and technology on atmospheric pollution in France.
Data comes from actors and enquiries.
Main results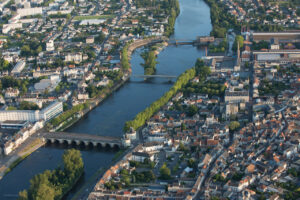 The observatory produced a full report on energy consumption and production with evolution from 1990 to 2007, GHG inventories for 1990, 2003 and 2005.
Since 2007 a quarterly regional and council-level (departmental) report on renewable energy (RE) is published, showing the number of photovoltaic units connected to the grid. A 2009 study listed energy efficiency (EE) and RE potentials in the region by sector by 2020. In addition, several studies have been published regarding thermal renovation of buildings.
The observatory has also assessed the amount of GHG emissions avoided by the actions of 9 of the Territorial climate and energy plans (PCET) made by local
authorities in the region.
In 2010, a website has been launched. The number of visits is one of the indicators used to assess the observatory's activity.