OREGES – the Regional Observatory for Energy and Greenhouse Gases emissions of Rhone-Alpes (created in 2002) is involved in the elaboration of the regional plan for air quality, climate change and energy (SRCAE), co-designed by the regional council and the regional representation of the national state. The purpose of the plan is to set orientations for the 5 coming years on these issues.
Context and Rationale
The observatory is monitoring:
Final energy consumption and energy production (mainly from renewable sources).
Energetic and non-energetic GHG emissions, including CH4 emissions from the agriculture sector.
Main results
The objectives are: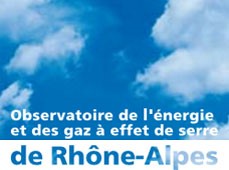 To gather and produce information at the regional level on the different constituents
of energy production and consumption and GHG emissions.
To ensure consistence of the information between regional and national levels.
To ensure a follow-up of knowledge through the use of tools and indicators to assess
the impact of policies & measures.
To carry out specific studies (including prospective studies) on local energy
resources, needs and consumption and their determiners.
To be a platform for exchanges of information related to energy and GHG and to
facilitate the dissemination of information.
Energy balances and GHG inventories are used as inputs for defining the regional policy on energy and climate change. Reports include identification of renewable energy sources. They are published on a yearly basis and are available free of charge on the observatory's website. Data is available at communal level as far as technically and legally possible (there are some confidentiality issues).