Your energy agency, city or region face some challenges in its energy and climate data collection, monitoring, processing or communication?
Experienced energy agencies will tutor their peers in 4 topics
1 : Energy Data collection (acquisition and treatment)
2: Monitoring, Reporting, Verification: follow up on implementation of actions
3: Indicators and strategies on adaptation to Climate Change
4: Data display, dissemination and validation by end users
You are a city, a region, an energy agency or another organisation providing support to municipalities, fill in the application form on this link to join the programme:
https://ec.europa.eu/eusurvey/runner/energee-watch-2nd-cycle
Deadline : March 11, 2022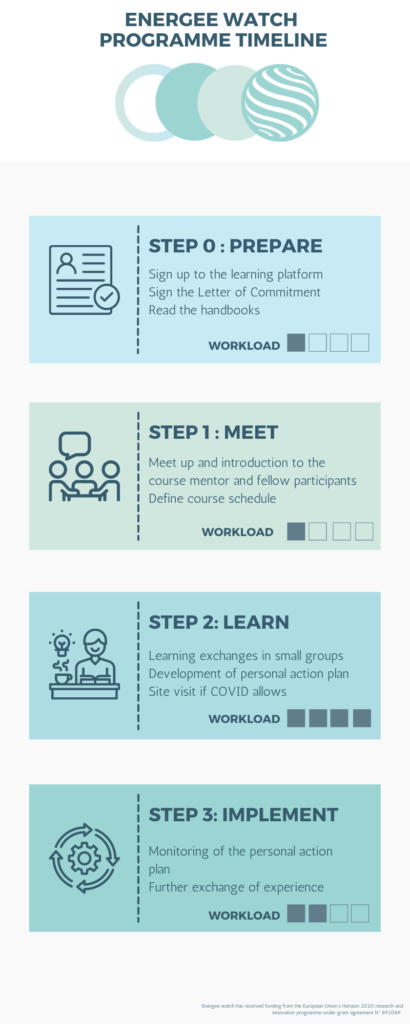 Programme's decription
The second edition of the ENERGee WATCH programme will cover the 4 topics above. To find out more about the exact content of the courses and the mentors, please visit these pages :
The peer learning programme will be carried out in English, free of charge, and travel expenses will be reimbursed up to 500 eur for one person per organisation. There will be a total of 3 learning cycles, the first one is completed, the 2nd will start in March 2022 and the third one in September 2022.
The Peer learning core programme should last from 4 to 6 months. Additional peer review webinars (step 3) will be organised for interested participants.
On the infographics on your right, you can find the steps the programme will follow.
Testimonials from participants of the 1st learning cycle
The first edition of the learning programme has been very successful. You can read some of the testimonials below.