Dedicated to local/regional authorities and energy agencies and available free-of-charge, the ENERGee Watch courses are delivered by experts from European energy agencies. The 4 crash-courses deliver the compressed version of the 4 ENERGee Watch modules, an A to Z on the topic of energy and climate data.
The online crash-courses are particularly ordered to build on the knowledge of the previous one. Each course will have 3-4 hours dedicated. We recommend the participation in all webinars!
The course descriptions are available here.
9 May, Tuesday, 9:00 – 12:00 / Data collection (acquisition and treatment)
developed by Energy Agency of Savinjska, Šaleška and Koroška (KSSENA)
Registrations here.
15 May, Monday, 9:00 – 12:00 / Data monitoring and validation
developed by Cyprus Energy Agency (CEA)
Registrations here.
22 May, Monday, 9:30-12:30 / Indicators for adaptation to climate change
developed by Île-de-France Île-de-France Regional Energy and Climate Agency / Paris Region Institute (AREC ÎDF)
Registrations here.
30 May, Tuesday, 9:00 – 12:00 / Data display, dissemination, and validation by local authorities
developed by Auvergne-Rhône-Alpes Energy Environment Agency (AURA-EE)
Registrations here.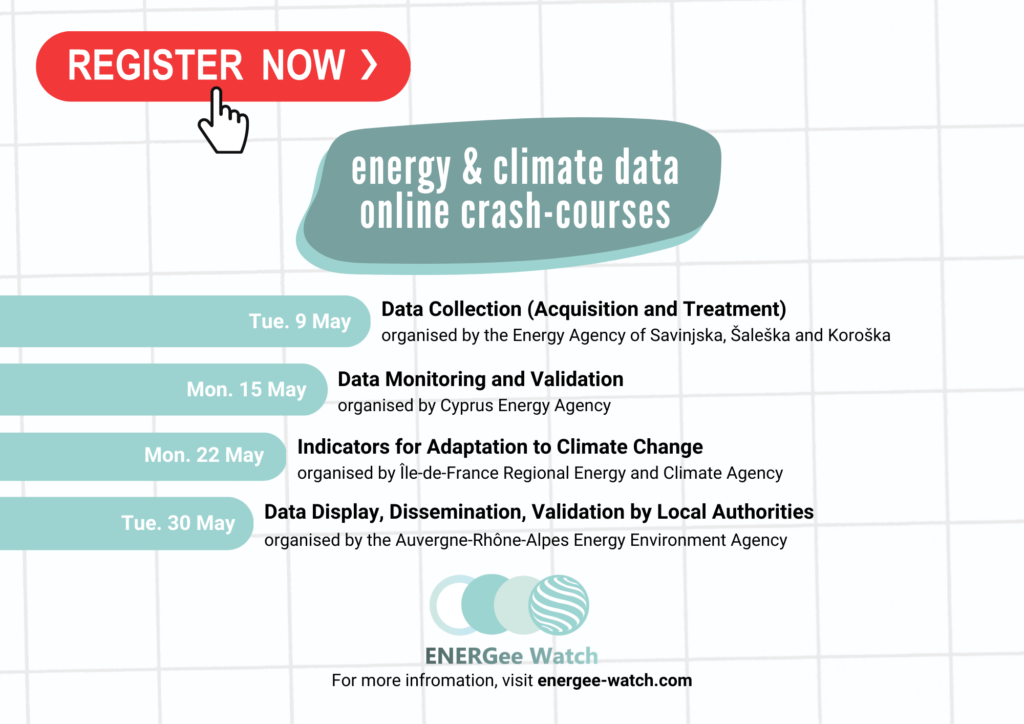 Full attendance and active participation in all four replication events will result in a certificate of completion (with attendance exemptions for participants of the original learning program which had previously attended courses).  
NB: The Europe-wide webinars are part of the replication phase of the ENERGee Watch project. More information about the ENERGee Watch national replication events here.